Unity is a popular real-time gaming engine for free to create 2D and 3D multiple platform games. It's quite an easy and interactive experience to create cross-platform games. Usually, you required to install multiple versions of Unity to develop a game. But if you install multiple Unity versions as a result it takes a lot of disk space that is occupying a lot of space. Then try to uninstall Unity but you are failing to uninstall for unknown reasons. If you are stuck with third-party unity and unity Hub removal problems in Windows 10 then follow these simple methods and uninstall the proper way.
Check Here: How To Cut Video In VLC & Create New Video Easily On Windows/Mac
How To Uninstall Unity and Remove Unity Hub From Windows 10/8/7
In this post, I will share with you the three methods of uninstalling unity and remove unity Hub from Windows 10/8/7. If you follow these three methods of course you will able to uninstall Unity and Unity Hub from Windows. So follow these three methods and try it on your Windows.
Method 1:
If you want to follow the first method to uninstall unity first go to Control Panel then Uninstall Programs.
Click on the "uninstall Program" option.
In this step, you will get a list of install programs that are installed on your computer. Now, find the Unity from the install program list and then press on Uninstall.
After click on uninstall option make sure and click on uninstall to start the uninstallation Unity Hub.
When you click on uninstall option If the Unity Hub is running, you will see an error message. Just click on the "Ok" button and then it will be close and then Unity Hub will be Uninstalled automatically.
When the Unity Hub will be uninstalled completely then you will get a message of completing unity Hub Uninstall. After the uninstallation is complete, click the "Finish" button.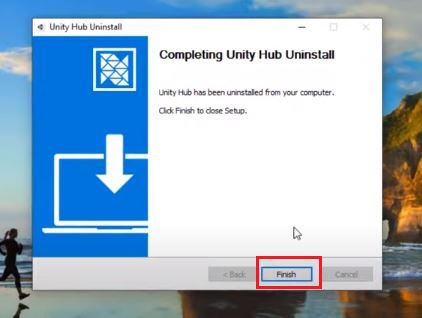 Read also: How To Download For Free and Set Up Cash App
Method 2:
How To Uninstall Unity Ubuntu 15.10 & 16.04
In this section, I will show you how to delete or uninstall Unity from Ubuntu 15.10 & 16.04. If you want to delete unity follow the instructions to delete properly. Basically, I will share with you a different and easy way of deleting unity from Ubuntu using CMD.
First of all, you need to notice the two commands that are written below. You can collect these two commands in the notepad or you can copy from here.
sudo apt-get remove unity8-desktop-session-mir
sudo apt-get autoremove
Go to the search box from your computer and type CMD to open the command board like below.
Now copy the first command (sudo apt-get remove unity8-desktop-session-mir) and paste to the command board and hit the enter key.
Again copy the second command (sudo apt-get autoremove) and paste in command like before and press the enter key. Now, you will see Unity be starting deleting from Ubuntu. If you notice on the command board screen you will see Unity is removing.
Read Here: How To Jailbreak A Vizio Smart TV [ Great Solution]
Method 3:
How To Uninstall Unity Editor From Unity Hub
The first stage, open unity hub.
Then click on the install option.
Here you can the version which you want to uninstall then click on the three-dot down menu and select the module which you want to uninstall. Now click on uninstall it will take a few seconds to complete uninstall.
Final word
Finally, it's done and I hope you have learned how to uninstall Unity properly from this post. I hope these three methods are pretty simple and straightforward to you for uninstalling Unity and Unity Hub. If you like this article you may also learn how to reduce/limit handbrake CPU usage in Windows 10 [Solve100%].